Crème Fraiche is a cultured cream with a rich, full taste. Unlike sour cream, the butterfat in crème fraiche can be as high as 28%. Ronnybrook's heavy cream makes this Crème Fraiche particularly creamy and sweet. It can be used whenever sour cream is called for and is perfect for thicken purees as it does not curdle. It is a mature, thickened cream with a velvety smooth texture. Use to top fresh berries, spongecakes, with caviar and soups.
Product Details:

Size: 8 OZ
Country of Origin:

United States of America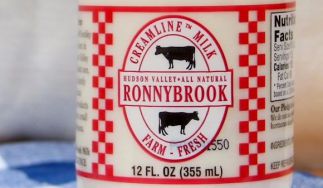 The Ronnybrook family has been in business for over 70 years and they manage every phase of milk production – from farm to the cows to the bottling plant – with no third parties involved. During the spring, summer, and fall, their cows feed primary on fresh pasture that grows on...
Learn more about Ronnybrook Dairy