Cabot Creamery in Vermont is a cooperative of 1,200 dairy farm families in New England. They create this thick and creamy Greek Style yogurt that is perfect for baking, adding to smoothies, serving in fruit parfaits and other desserts. Use Cabot Plain Yogurt for making Tandoori Chicken and refreshing tzatziki sauce.
Product Details:

Size: 2 LB
Country of Origin:

United States of America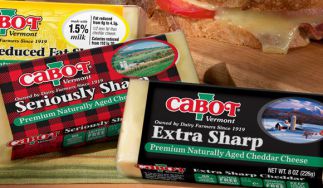 In 1919, farmers from the Cabot area joined forces to turn their excess milk into butter and market it throughout New England. Ninety-four farmers jumped on board and purchased the village creamery which was built in 1893. In 1930 the company hired its first cheesemaker and cheddar...
Learn more about Cabot Creamery