Crisp, colored carrots bring life to any dish. To keep colors as vibrant as possible, slice thinly and use raw or lightly grilled. Steaming will leach out less color than boiling will, so is the preferred cooking method for larger chunks. Remember, more color means more antioxidant levels. These are grown organically near Syracuse, NY and have incredible flavor thanks to Norwich Meadows Farm's proprietary fertilizer mix.
Product Details:

Size: 2 LB
Country of Origin:

United States of America local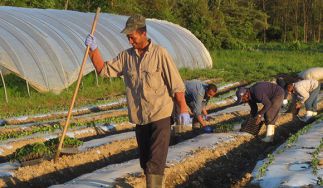 After working in the dairy division at Cornell Cooperative Extension for six years, Zaid Kurdieh and his wife Haifa decided to open their own certified organic farm in 1998. Starting with just an half acre behind their house, their vision of supporting the community has become a reality and now...
Learn more about Norwich Meadows Farm