More About This Product
This coarse black salt from Hawaii is renowned for its texture and color which is created by bonding high quality, activated charcoal to pure Pacific Ocean sea salt. Hawaiian Black Salt excels as a finishing salt because of its earthy flavor and smoky top note. Its coarse texture adds a delightful crunch and a subtle saltiness to anything it touches. Sprinkle onto vegetables, salads, fish and meat dishes.
Product Details:

Size: 3.5 LB
Country of Origin:

United States of America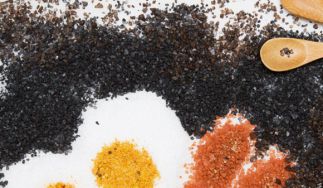 SALTOPIA Infused Sea Salts is owned by Kimarie Santiago, founder and creator of the brand. SALTOPIA uses only naturally harvested sea salts from all over the world. They currently have established salt harvesting farms in all seven continents and import about 28 different types of salts. All...
Learn more about Saltopia