Sfoglini is a Brooklyn based producer of small batch, freshly extruded pastas made from the finest organic flours in America. They use traditional bronze dies which give their pasta a textured, porous surface for your sauce to cling to. They also dry at low temperatures to preserve nutrition and flavor. Campanelle, little bell in Italian, is also called gigli lilies as it holds its shape in fluted petals like a flower or a horn. It is exceptionally fanciful with its frills and delicious when accompanied by a thick cheese sauce, baked in a casserole or tossed with vegetables, beans and lentils in a pasta salad.
Product Details:

Size: 6 X 1 LB
Country of Origin:

United States of America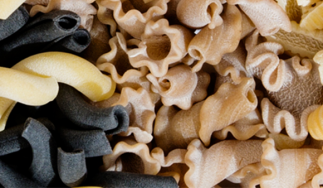 Sfoglini was born from the vision of Chef Steve Gonzalez who has been a part of some of the most formidable pasta programs in New York City: Insieme, Hearth, Roberta's, and Frankies Sputino, and former creative director Scott Ketchum who both talked for years about bringing a superior,...
Learn more about Sfoglini Pasta