More About This Product
Di Martino Spaghetti is a classic Italian delight universally loved all over the world for its traditional taste and texture. Brought to you packed in uniquely designed Dolce & Gabbana packaging, this Italian pasta is guaranteed to become your kitchen essential!Pasta is an indispensable part of Italian gastronomy; however, it might come as a surprise that its origins are shrouded in mystery. While most are convinced, it was born in Italy; some believe Marco Polo was the one who brought pasta back from China! Nonetheless, Italy is the pioneer who revolutionized pasta. With more than 400 known pasta types, there's one for everyone! You can discover new favorite shapes and flavors in our carefully curated collection of Italian pasta - from Bronze Die Cut to classic spaghetti; we have everything!Di Martino is an Italian pasta maker with over 100 years of expertise. The brand's story began in 1912 when Giuseppe Di Martino became the master of making short pasta at his first factory. Today Di Martino is one of the best Italian pasta and gnocchi manufacturers producing its delights with Italian durum wheat semolina and pure local spring water. You can discover a wide selection of authentic Italian products in our online Italian grocery store!Spaghetti by Di Martino is simply perfect when paired with aromatic herbs, oil, and vegetables. This pasta is perfect for incorporating into your Neapolitan-style dish with cherry tomatoes and clams!
Product Details:

Size: 12 X 1 KG
Country of Origin:

Italy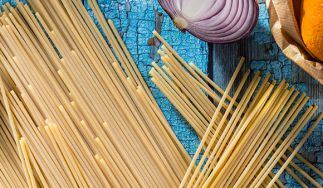 More than 100 years of experience in the production of Gragnano Pasta make the di Martino family the reference point in the world market of Protected Geographical Indication (P.G.I.) high quality pasta.Di Martino pasta is made by the successful encounter of selected 100% Italian durum wheat...
Learn more about DI MARTINO
Product Unavailable
Select a Substitute item below
DI MARTINO
Dolce&Gabbana Hand-Wrapped Spaghetti Pasta
PASTADM1I