More About This Product
These large ridged pasta tubes are made from 100% Italian durum wheat semolina, extruded through bronze dies, and slowly dried in the traditional Gragnano method for the best toothsome texture.
Product Details:

Size: 10 X 1 LB
Country of Origin:

Italy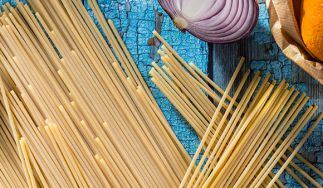 More than 100 years of experience in the production of Gragnano Pasta make the di Martino family the reference point in the world market of Protected Geographical Indication (P.G.I.) high quality pasta.Di Martino pasta is made by the successful encounter of selected 100% Italian durum wheat...
Learn more about DI MARTINO