Meet the newest addition to the Robins Koginut family tree. Since creating the Koginut, breeder Michael Mazourek has continued to innovate, selecting new breeding lines from the original hybrid. This little squash consistently stood out from the pack, delivering the same signature depth of flavor and velvety texture of its predecessor. In fact, Lodi packs in even more concentrated sweetness, making this single-serving squash a new favorite. Like the Koginut, Lodi has a built-in ripeness indicator. Squash on the vine turn from green to bronze when ripe, ensuring that each squash is picked at peak flavor and nutrition. This squash takes its name from Lodi, NY, where Robin Ostfeld first worked with the Koginut. Michael acknowledges the contributions of many graduate students who supported the project, including Maryann Fink-Brodnicki, Sara Shapleigh and Emily Rodekohr.
Product Details:

Size: 17 LB
Country of Origin:

United States of America local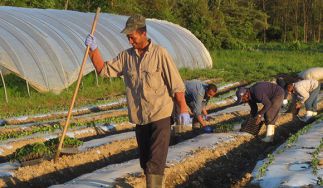 After working in the dairy division at Cornell Cooperative Extension for six years, Zaid Kurdieh and his wife Haifa decided to open their own certified organic farm in 1998. Starting with just a half acre behind their house, their vision of supporting the community has become a reality and now they...
Learn more about Norwich Meadows Farm