Tahini is made of ground sesame seeds, often referred to as sesame butter because of its rich and silky texture. Seed + Mill starts with the best of the best sesame seeds, sourced from Humera in Ethiopia. They roast them at precise temperatures to lock in their natural flavor and exceptional nutritional benefits. Sesame seeds are full of iron, calcium and protein and help lower cholesterol. After roasting, the sesame seeds are ground in small batches to produce an irresistible paste, known as tahini. It can be devoured all on its own, whipped into a dip, added to smoothies, baked into treats, or drizzled over just about anything. Savory or sweet, tahini works great in both!
Product Details:

Size: 5 KG
Country of Origin:

United States of America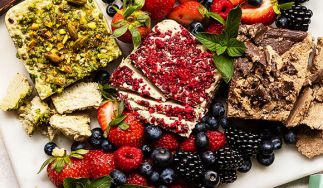 Seed + Mill is an artisanal food brand, producing delicious, nutritious, and gift-able products all made from sesame seeds, including tahini, halva, tahini soft-serve, and a range of sesame spice blends. We grew from being a little kiosk in Chelsea Market selling a product that was hard to...
Learn more about Seed + Mill