More About This Product
Also known as Black Gilliflower, Sheep's Noses are uniform in shape and size - large, oblong, conical and ribbed. The distinct dark red skin deepens to almost black in spots. The greenish white flesh is rich, mild and sweet with a distinctive aroma.
Product Details:

Size: 18 LB
Country of Origin:

United States of America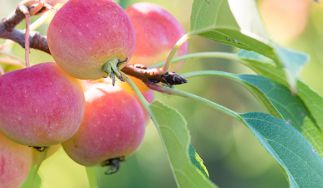 The Scott Farm, listed on the National Register of Historic Places, has been in active cultivation since 1791. This 571 acre farm has been owned since 1995 by The Landmark Trust USA, a non-profit organization whose mission is to rescue important but neglected historic properties and bring them back...
Learn more about Scott Farm Orchard
Product Unavailable
Select a Substitute item below
SCOTT FARM ORCHARD
Sheep's Nose Heirloom Apples
AP99X2