The creation of Chef Aurelien Dufour, master charcutier of France and former Chef Charcutier for Daniel Boulud. This fresh sausage blends coarsely ground chicken flavored with grilled red peppers and onions. Handcrafted here in the US using traditional French techniques, the highest quality meats, and locally sourced vegetables. The casings are natural sheep casings. No nitrites, hormones, antibiotics, artificial preservatives or additives.
Product Details:

Size: LB
Country of Origin:

United States of America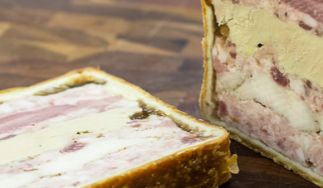 Born in Bordeaux, France, Aurélien Dufour's food obsession was born of constant exposure to classic French cuisine and his father's commitment to home cooking. When his family moved to Germany, Dufour began eating sausage at every meal, solidifying his love of charcuterie. By 19...
Learn more about Dufour Gourmet