Handsome Brook Farms, New York, NY
Small Farms, Big Hearts, Brighter Future
About Handsome Brook Farms
Handsome Brook Farms, a Certified B Corp™, was founded in upstate New York in 2007 with a flock of five hens and a simple philosophy: "Hens that are treated well, with plenty of room to roam and forage, are healthier and produce higher quality, more delicious eggs."
Since then, we've grown our farmer network and shared our standards for raising hens along the way –one small family farm at a time. Our local approach to production, feed milling, flock supervision and distribution ensures that Baldor's customers can enjoy eggs produced on farms in NY, PA, or WV. This means we can offer the freshest locally produced eggs at an accessible price while upholding the highest standards of animal welfare and environmental sustainability.
We celebrate the diversity of the farms and families we work with, and pride ourselves in ensuring that all of our hens are free to forage on certified organic pasture, provided fresh certified organic feed from local mills, and have the freedom to roam, nest, perch, and eat and drink their fill without competition!
Our philosophy and approach to raising hens on pasture are rooted in the principles of Organic agriculture. Handsome Brook Farms is building on those principles by partnering with our farmers to incorporate regenerative, climate-smart practices into our model.
Small Farms, Big Hearts, Brighter Future
Thank you for joining us!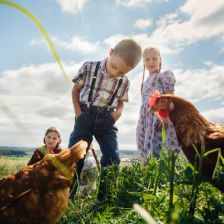 "The birds love going outside. When I open the doors, they come flooding out, they really love being out in the grass, and I love watching them in the pasture."

Alvin Jantzi, HBF Farmer
In Season Now
From Handsome Brook Farms
EXPLORE THE WORLD OF BALDOR