Gullo Specialty Foods, A Coruna Vigo, Spain
The Finest Cuttlefish and Octopus in the World
About Gullo Specialty Foods
Family owned and operated Gullo Specialty Foods began with one family's simple love for seafood. Based out of Long Island, New York, their goal is to provide the finest tenderized octopus in the United States directly from the north Atlantic and Mediterranean coasts of Spain. Gullo is reliable. We offer the most consistent and highest quality octopus and sepia.
Their family roots trace back to Sicily, where their story and love for octopus began. Frequent childhood memories involve their mom boiling it and serving it cut up into small bites like popcorn, with fresh lemon.
As years passed beyond the childhood days, Frank — one of Gullo's owners— set out to bring that same Spanish octopus to the United States. After a lengthy search, Frank's standards were met and Gullo was formed.
Production at the warehouse starts everyday at 3:30am. While the world is sleeping, they are tenderizing. Every product that leaves the facility gets their personal seal of approval.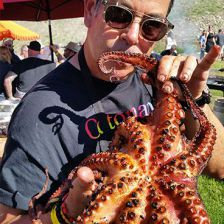 The Gullo octopus is perfectly tender and moist and maintains the best texture. The flavor and texture surprises thousands and thousands of our guests each year.

Travis Swikard, Boulud Sud