Fever-Tree, London, UK
If 3/4 of your drink is the mixer, mix with the best.
About Fever-Tree
Since Charles and Tim, co-founders of Fever-Tree put the lid on their first bottle of our Premium Indian Tonic Water, they haven't wavered in their single-minded mission to bring quality, flavour and choice back to mixers. Innovation remains at the heart of Fever-Tree and they've developed a range of tonic waters that perfectly complement the varied flavour categories of gin. Charles and Tim have founded three incredibly diverse varieties of ginger that, together, create a remarkably deep, fresh and true taste, which they've used to make a selection of ginger ales and ginger beer. They've developed a recipe for cola using Madagascan vanilla with the single purpose: to bring out the best in dark spirits, like whiskies and rum. They have lemonades using the finest, naturally sourced ingredients and a beautifully simple soda water too. Their story is about going to the ends of the earth in pursuit of the best and, the most exciting thing is, they've only just scratched the surface.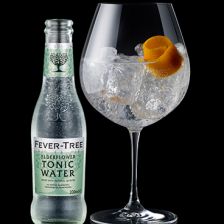 "It all began in 2003 with a meeting of minds and one simple premise: if three quarters of your G&T is the tonic, wouldn't you want it to be the best?"

Charles and Tim, Fever-Tree co-founders
In Season Now
From Fever-Tree
EXPLORE THE WORLD OF BALDOR