County Line Harvest, Thermal, CA
Organic lettuces, cooking greens, baby root vegetables, and other specialty produce.
About County Line Harvest
County Line Harvest is an organic farm with two locations in California: one in Petaluma, Marin County, and one in Thermal, Riverside County. The farm's name came from their first location, which was on the Sonoma-Marin County line. Since its start in 2000, the farm has expanded to nearly 100 acres. Their two farms allow them to meet the varied produce demands of their customers year-round. County Line grows lettuces, specialty salad and cooking greens; roots like beets, turnips, and carrots; and other specialty produce.
County Line Harvest's Petaluma farm has been certified organic by Marin Organic Certified Agriculture (MOCA) since 2001. Recently they moved to new land in Thermal and they have taken on the important role of transitioning this location into certified organic land. Even though they will continue to grow as they always have, according to organic principles, the produce coming from this farm location cannot be called organic. While the farm is in transition, all product codes will be called "Transitional." By November of 2020 however, this land will be certified and all of County Line's produce will be organic again. Until then, we are proud of the important work Megan and David have taken on and we are happy to support them in the process.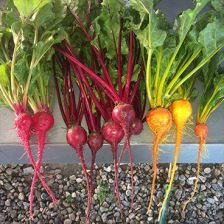 "I believe in taking care of the soil, and feeding people good food!"

David Retsky, Owner
In Season Now
From County Line Harvest
EXPLORE THE WORLD OF BALDOR